45300 Mound Rd, Shelby Township, MI 48317
Location Details - Greg Grant Sportsplex
---
Total Baseball offers programs in every area of baseball! We offer Lessons, Travel Baseball, Classes, Camps, Leagues, Facility Rentals, Tournaments, and more…
Total Baseball offers an incredible opportunity for any baseball athlete wishing to make a commitment toward improving his/her skills.
Total Baseball is unique in our ability to offer programs year round. Our instructors and staff take every step possible to provide a setting where baseball is enjoyed and skills are improved. Total Baseball has first class facilities, equipment and technology with a qualified and dedicated staff.
Our professional staff can help young athletes just beginning to play baseball, as well as the aspiring high school athlete looking to improve and develop their skills for the next level. With year-round classes, camps, training and private lessons, Total Baseball provides a tremendous asset to many programs and individuals looking for a competitive advantage.
For more information on

TOTAL BASEBALL

opportunities, see the information below or contact 
Austin Prebelich, Total Sports Complex-Shelby Manager at: 
austinp@totalsportscomplex.com or

(586) 247-3880
OPERATING HOURS
Mondays, Thursdays
11 am-9 pm
Tuesdays, Wednesdays, Fridays
3-9 pm
Saturdays, Sundays
9 am-9 pm
Tunnel Rentals
To rent Tunnels, call

(586) 247-3880
Field Rentals
To rent the Field, contact:

Celina Gutierrez

, Total Baseball & Total Softball Coordinator


celina@totalsportscomplex.com

or

(248) 668-0166
Total Baseball's Winter Classes are open for registrations: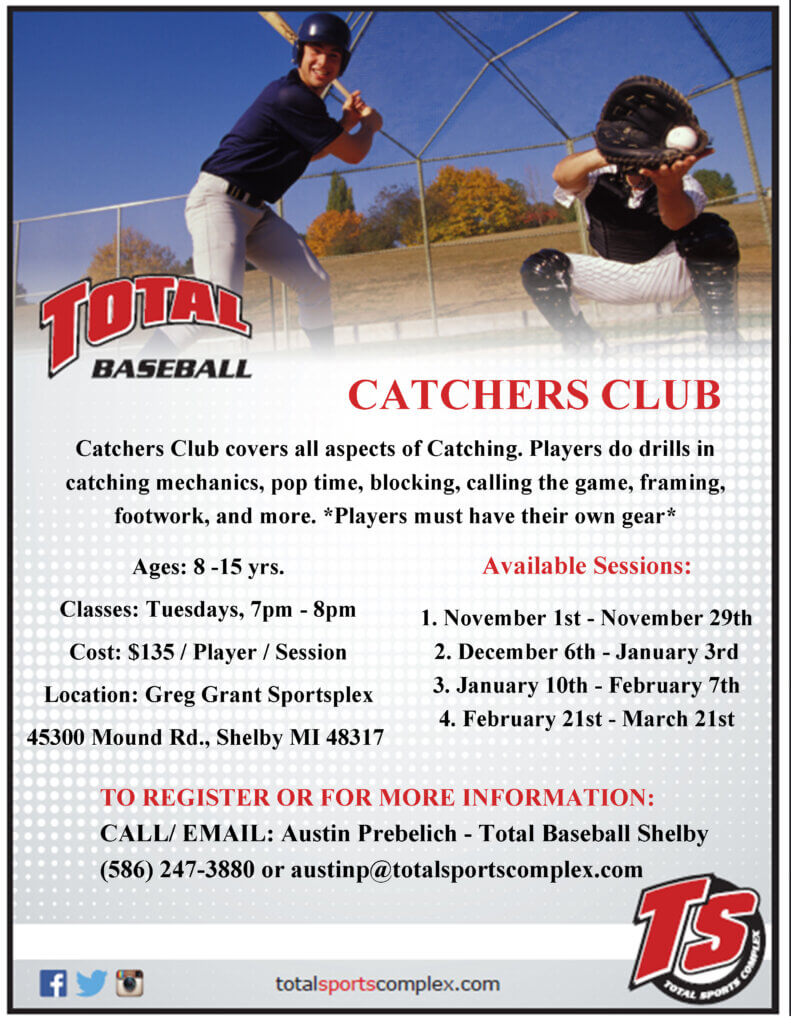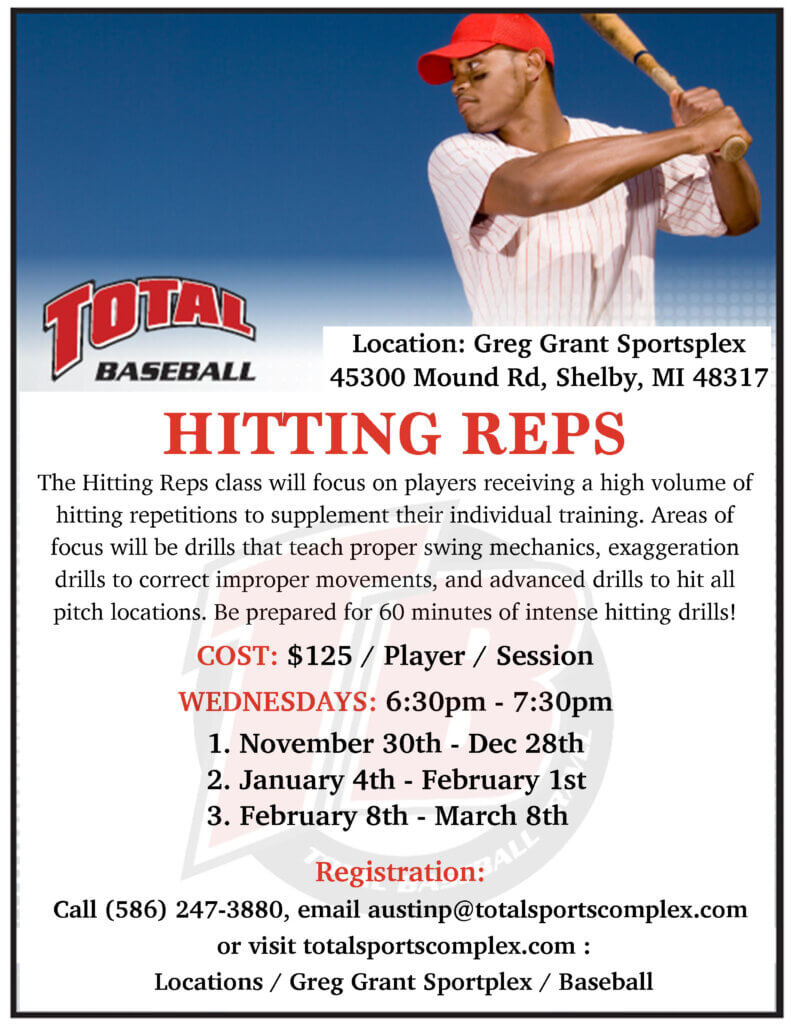 TOTAL BASEBALL'S 2023 TOURNAMENTS – REGISTRATION IS NOW AVAILABLE:
If you have questions about Tournaments, email:

Total Baseball

at

baseball@totalsportscomplex.com
-  We are looking for individual players to fill teams in all age groups.
- Start a new team or bring your own team to Total Baseball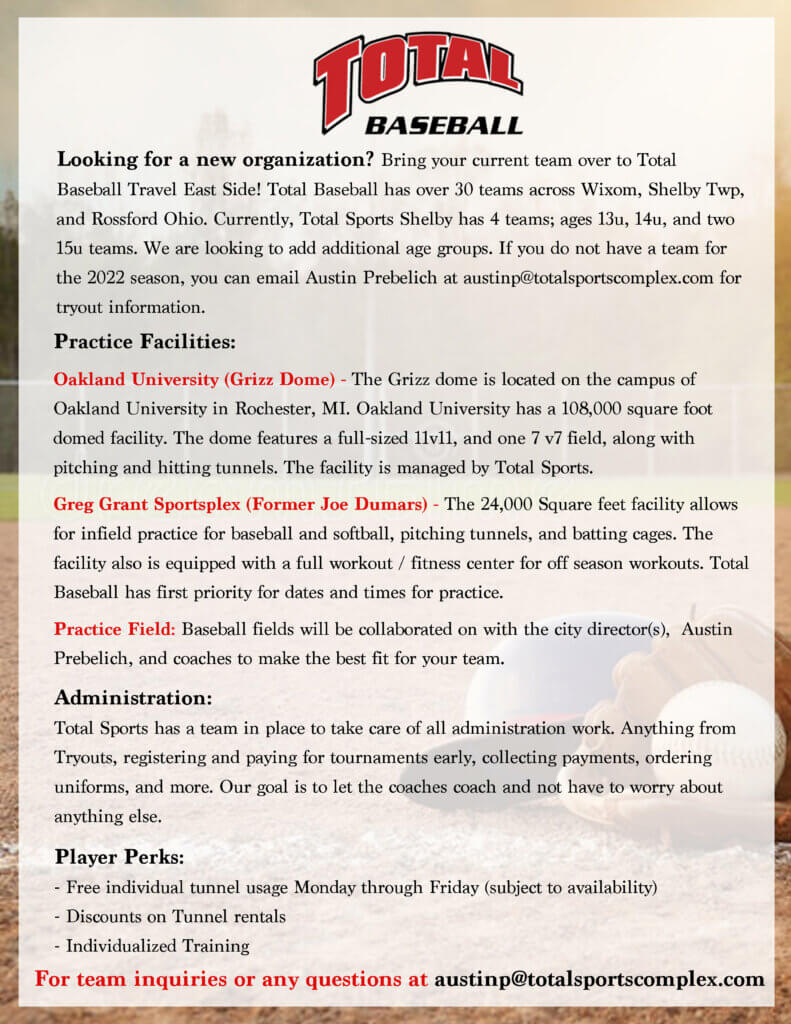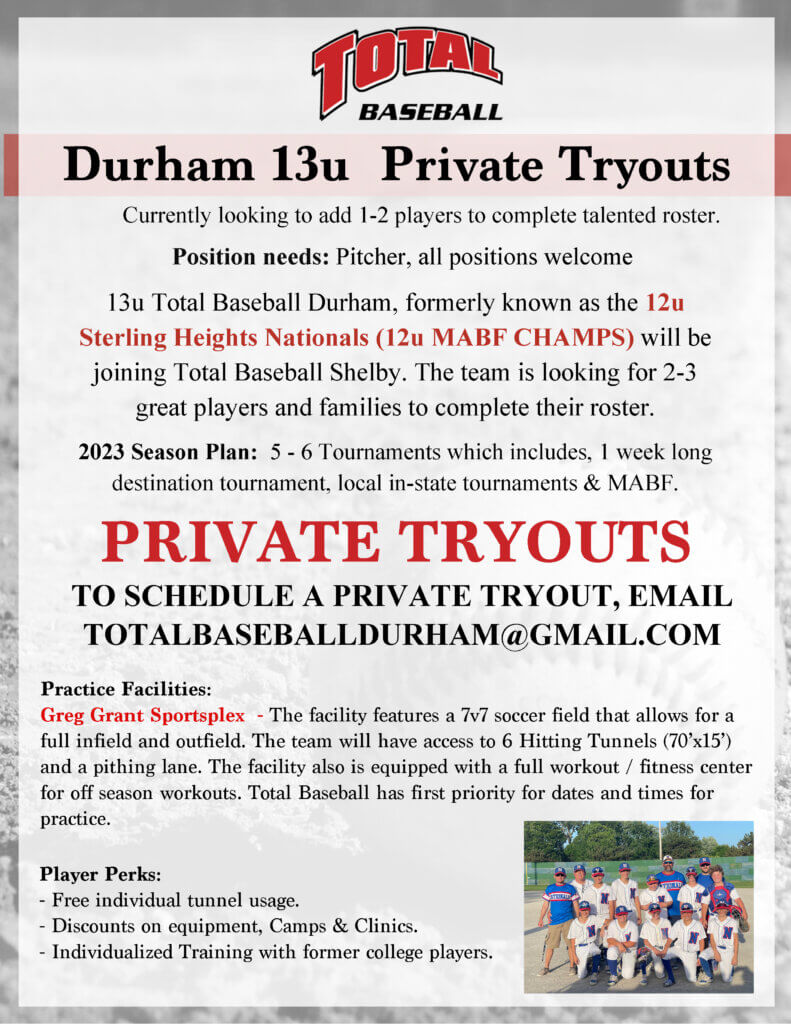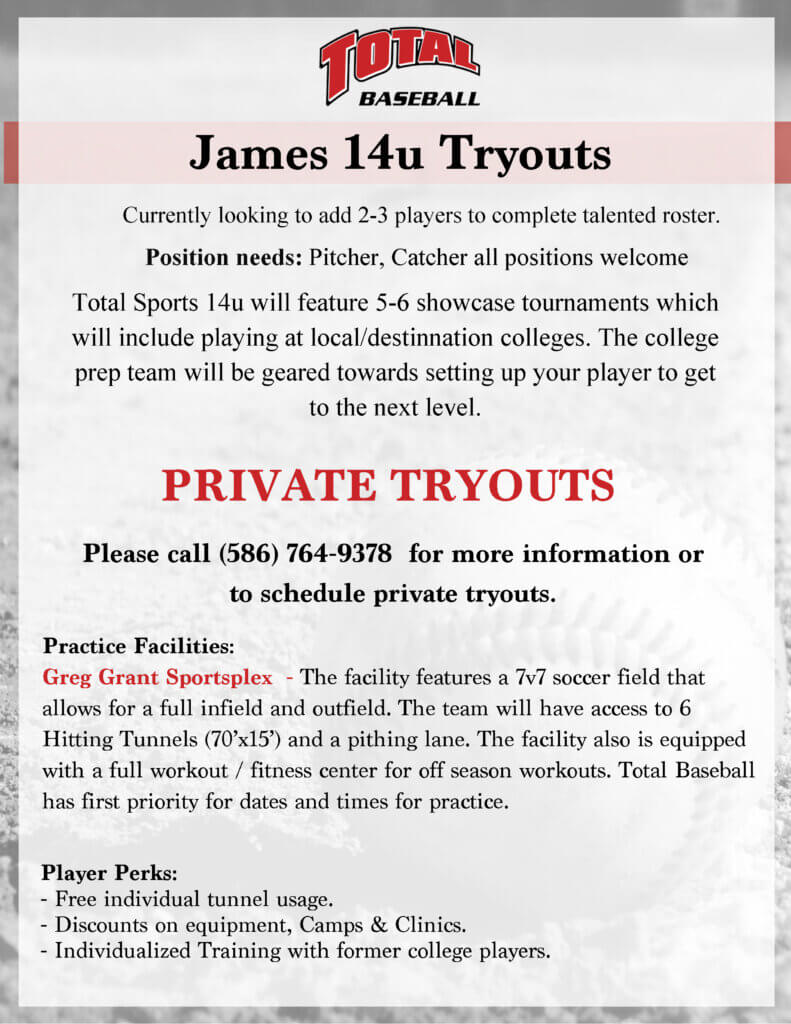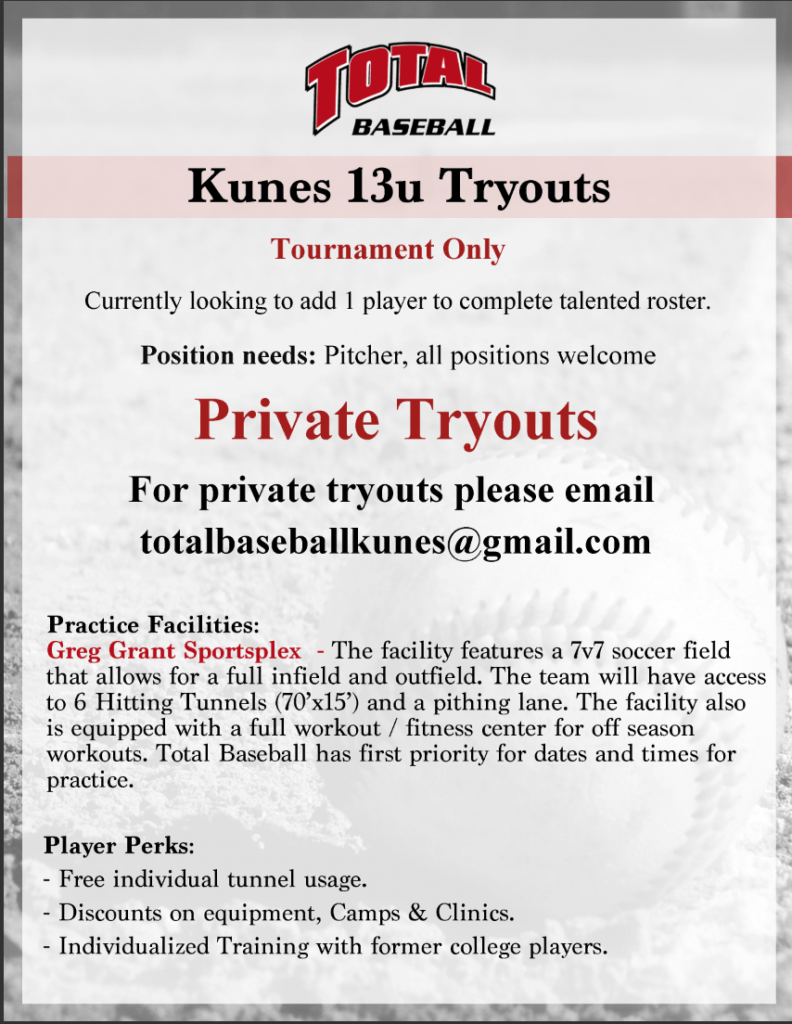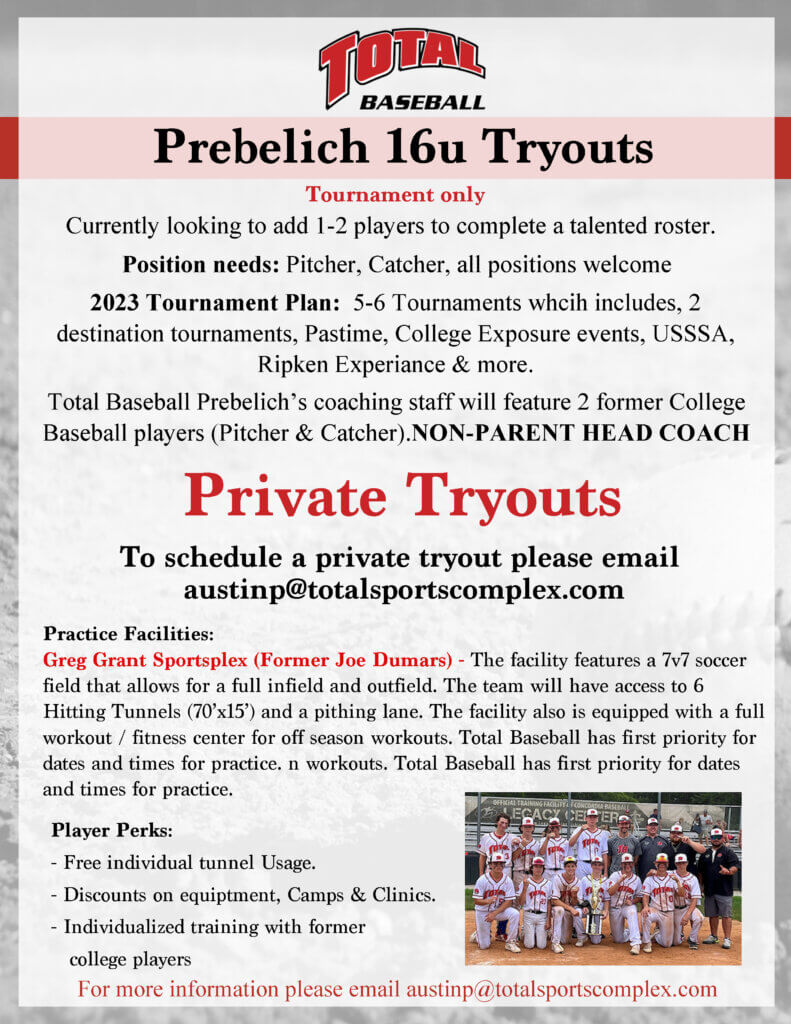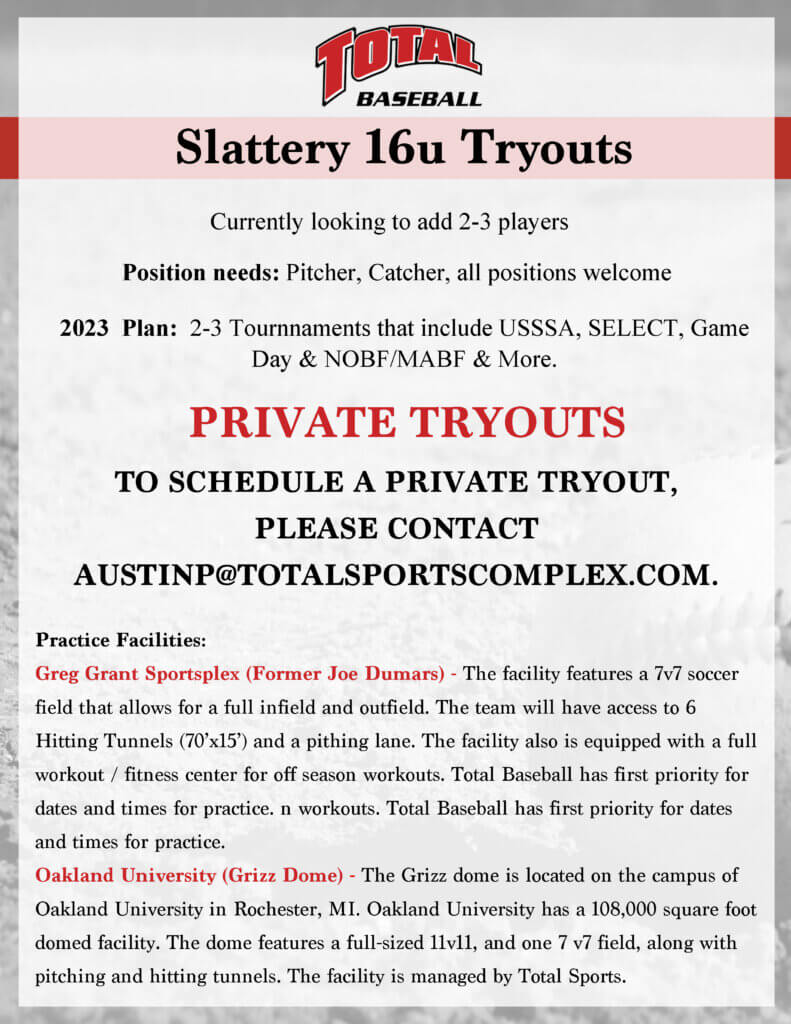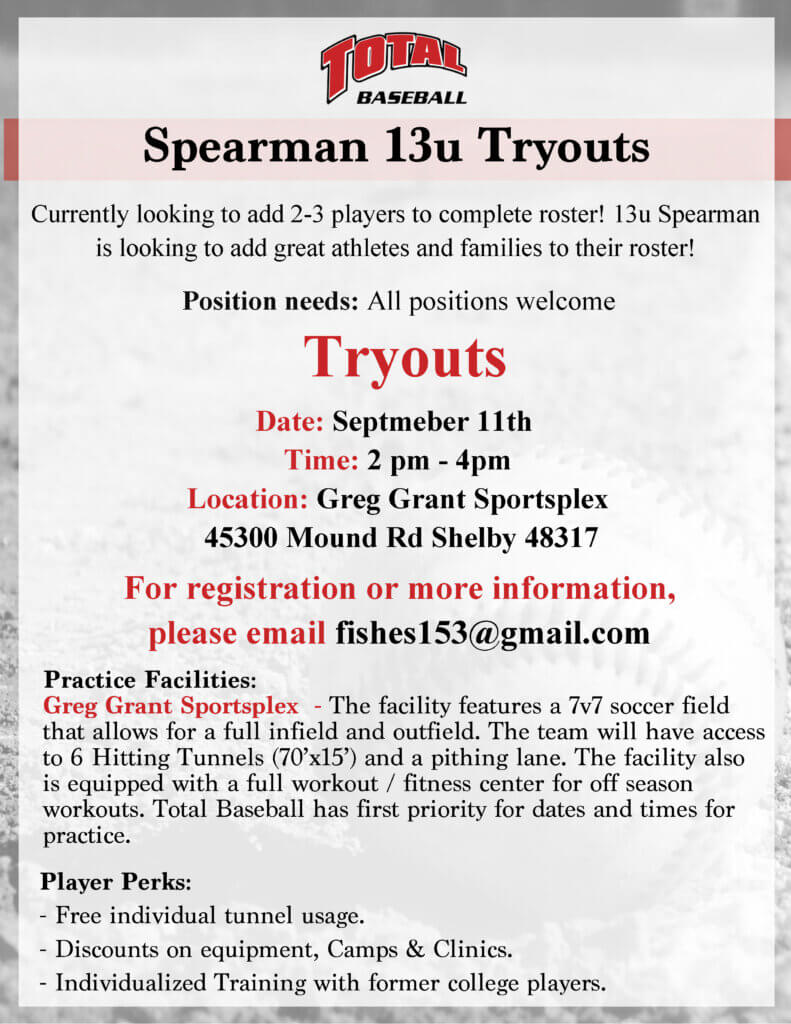 Lessons at Greg Grant Sportsplex
Total Baseball offers Baseball Lessons with our Professional Instructors starting in November 2022. Check out our Instructor's bios: Total Baseball Instructors
TB Instructors at Shelby 10-29-22

Availability
JEFF MCGAVIN

: Contact Total Sports for availability.

NICK HARTLEY

: Monday, Tuesday, and Thursday evenings

SCOTT MISURACA: Mondays 4:30-8 pm, Saturdays 9-11 am, Sundays 4:30-6:30 pm

AUSTIN PREBELICH

: Tuesdays and Saturdays

DAN DEBRUIN

: Mondays, Thursdays and Fridays

CHRIS WHITNEY

: Mondays and Thursdays
Lesson Rates
$50/half hour
$240/(5) half hour lessons - lessons purchased in advance are good for a year.
Scheduling Lessons


austinp@totalsportscomplex.com or (586) 247-3880
FAQ
What happens if I cancel a scheduled lesson?

Lessons must be cancelled at least 24 hours prior to scheduled lesson. Total Baseball reserves the right to charge for no-show or cancelled lessons that our office is not notified of within 24 hours of the scheduled lesson.

Do I have to pay for lessons prior to appointment?

All customers have to pay for scheduled lessons in advance. You will be asked to save a Credit Card on file when you register for lessons. Payments for lessons will be withdrawn the day of your lesson.

What Are Team Lesson Rates?

Please call or email Total Baseball-Shelby at (586) 247-3880 or austinp@totalsportscomplex.com

Can Lessons Be Discounted?

Lessons cannot be discounted. The Lesson Packages already include discounted rates.