10020 S. Compass Dr
Rossford, OH 43460
View Map
---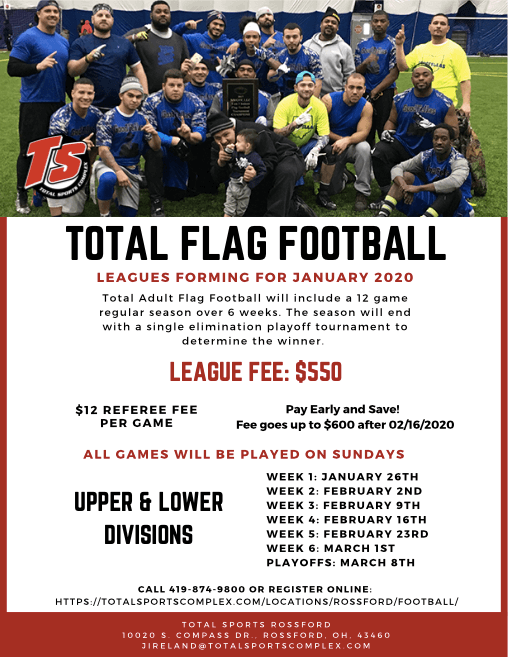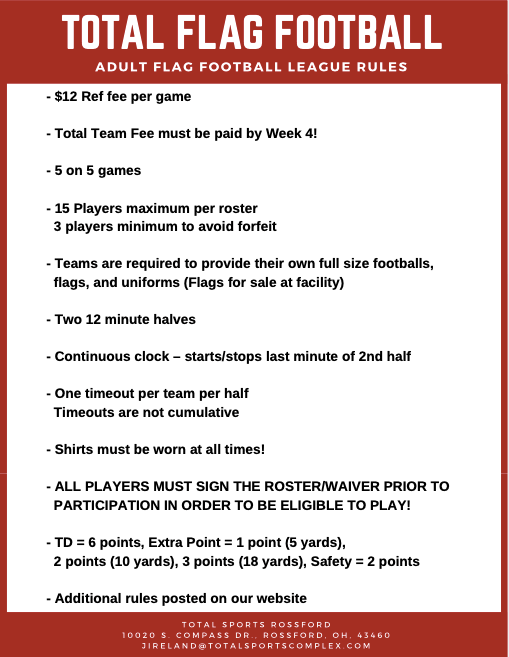 Games are 24 minutes

Two 12 minute halves
Continuous Clock
Clock stops last minute of second half only
One timeout per team, per half (noncumulative)
Overtime: 1 play from the 5, 10, or 18 yard line for 1, 2, or 3 points. Only two attempts per team in pool play. Pool play games can end in a tie.
Playoff Overtime: Alternate possessions until a winner is determined.
Interceptions may be returned for the amount of points being attempted.
Mercy Rule: 19 points at 1 minute remaining in the game. 33 points at anytime in the second half.

15 player maximum per roster

Minimum of 3 players to avoid forfeit.
All players must sign waiver.

Scoring

Touchdown = 6 points
Extra Point = 1 point (5 yard line), 2 points (10 yard line), 3 points (18 yard line)
Safety: 2 points
Interceptions on Extra Point attempts: may be returned for the amount of points being attempted.

Contact is allowed

Open hand contact is allowed between the shoulders and waist.
Center must assume a blocking position or take one step into a pass pattern before he can be touched.
Over aggressive contact is not allowed and will be flagged.

One chuck of the receiver allowed at the line of scrimmage to the 5 yards.
All players on offense can run the ball including the QB
No Run Zones are located 5 yards from each goal line and 5 yards from the midfield first down.
In the No Run Zone, the ball must be advanced by a forward pass only.
Backward passes and handoffs are allowed everywhere in the field
A player may not cross the line of scrimmage and then return behind the line of scrimmage to throw a pass. Once a player has crossed the LOS, no exchanges of any type may occur.
All players are eligible to receive a pass.
All defensive players can rush from anywhere on the field.
All drives and changes of possession (except interceptions) will restart at the 5 yard line.
Offense has 3 plays to cross midfield for a first down, or score a touchdown.
Offensive Penalties: all offensive penalties including false starts are 5 yards and loss of down.
Defensive Penalties: Automatic 1st down yardage (10 yards). Encroachment is automatic 1st down and 5 yards.
Sonic Boom is the only acceptable flag.
Fumbles or muffs that hit the ground are dead at the spot. Fumbles or muffs caught in the air may be advanced.
Ball must be snapped between legs.
Excessive contact fouls will not be tolerated. Players may be ejected, suspended, and/or fined for excessive contact.
Fighting and general disrespect of officials will result in ejection, suspensions, and/or fine.
Interceptions may be returned and a new series will start at the spot of the flag being pulled.
Contact with the QBs arm during a pass will be deemed roughing the passer.
If a player alters his flags, he will be ejected.
No stiff arms allowed (flag guarding)
1 player must be on the LOS before the ball is snapped (center). Motion is allowed. All players must be set before the snap.
Full size footballs must be provided by each team. NFL official size.
Cleats are allowed but must be rubber. No metal spikes.
When a players flag inadvertently falls off, revert to 2 hand touch between shoulders and knees.
Intentionally pulling off the entire flag belt will result in a 10 yard penalty. A second violation could result in ejection.
Flags need to placed on each hip. Official can correct flag locations. Repeated violations could result in a 5 yard penalty.