Total Baseball
Wixom
---
30990 South Wixom Rd
Wixom, MI 48393
Phone: 248-668-0166
Email: baseball@totalsportscomplex.com
View Map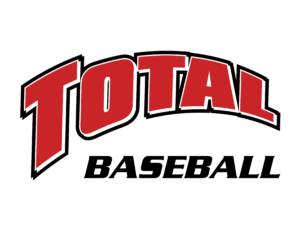 Total Baseball offers programs in every area of baseball! We offer Lessons, Classes, Camps, Leagues, Tournaments, Facility Rentals, and more…
Total Baseball offers an incredible opportunity for any baseball athlete wishing to make a commitment toward improving his/her skills.
Total Baseball is unique in our ability to offer programs year round at any of 6 different locations. Our instructors and staff take every step possible to provide a setting where baseball is enjoyed and skills are improved. Total Baseball has first class facilities, equipment and technology with a qualified and dedicated staff.
Our professional staff can help young athletes just beginning to play baseball, as well as the aspiring high school athlete looking to improve and develop their skills for the next level. With year-round classes, camps, training and private lessons, Total Baseball provides a tremendous asset to many programs and individuals looking for a competitive advantage.
Total Baseball Spring Hours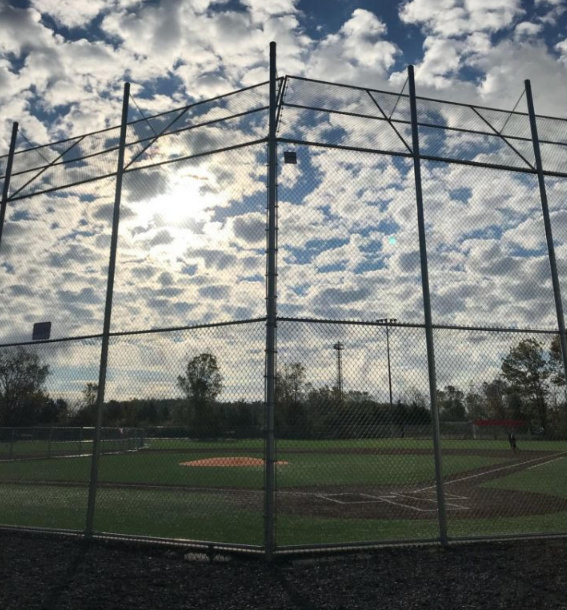 Monday-Friday: 10:00 am-9:00 pm
Saturday: 9:00 am-2:00 pm
Sunday: By appointment only
Total Baseball Staff / Contact Us (248) 668-0166
Celina Gutierrez

, Coordinator, celina@totalsportscomplex.com

Justin Latin

, Total Baseball Tournament Director & Travel Administrator, jlatin@totalsportscomplex.com

Rick Wing

, Total Baseball Supervisor, rickw@totalsportscomplex.com
Follow Total Baseball
Facebook: Total Baseball Wixom
Twitter: @Total_Baseball
Instagram: @totalbaseballwixom
FAQ
Lessons?

If you have questions about Lessons and Instructors, please call Total Baseball at (248) 668-0166.

Program Specific Information?

If you have questions about Classes, Camps or Leagues, please call Rick Wing at (248) 668-0166.

Facility Rentals?

If you are interested in renting space at one of the Total Sports Facilities for Indoor/Outdoor Baseball Training, please contact Celina Gutierrez.

Tournaments?

If you have questions about Tournaments, please contact Justin Latin.

Total Baseball Travel Program?

If you have questions about the Total Baseball Travel Program, please contact Justin Latin or Rick Wing.

Total Sports Shop?

If you have questions about Team Uniforms/Equipment/Spirit Wear/Bats, please contact Sean at sean@totalsportscomplex.com .
Total Baseball camps offer our campers a fast paced, fun filled time, developing their skills with our professional instructors. While at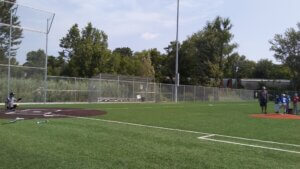 Total Baseball camp, campers will be instructed on all aspects of the great game of Baseball. This includes proper warm-up, throwing, fielding, base-running, pitching, hitting, and an instructor led scrimmage game to end each day. Daily competitions with prizes awarded.
Total Baseball Camps for Summer 2022 (click titles for printable flyer):
 FAQ
What Should I Wear To Camp?

Total Baseball suggests players wear athletic apparel or what they would wear to baseball or softball practice. Make sure players wear sneakers or turf shoes instead of cleats for indoor camps. Players can bring cleats for outdoor camps. No metal cleats are allowed on any field.


What Equipment Do I Need To Bring?

All players must have their own glove (mitt). Total Baseball encourages players to bring whatever other personal equipment they have i.e. bat, helmet, etc.

Should I Bring Water?

Players must bring their own water jug/bottle for camp.

Is Lunch Available During Camps?

Not at this time.

Is After-Care Available?

Total Baseball does not provide After-Care services for any camp. Parents can register their players for additional programs within

Total Sports-Wixom

to accommodate needs. i.e. Baseball Lessons.
Baseball Lessons are for athletes seeking personalized training for the specific skills they want to develop and enhance. Lessons can be tailored for all facets of baseball. Total Baseball's Staff of Professional Instructors teach fundamentals all the way through professional level skills during Baseball Lessons. Our instructors are all current or former Professional, Collegiate & High School, or Travel Baseball Coaches and Players. Most have played professionally in the United States or overseas. More importantly, they all share in the belief that an exceptional work ethic and positive attitude, coupled with the highest level of professional instruction facilitate self confidence in each player's on-field and off-field abilities.
All players will receive regimented, step by step instruction to improve their skill sets whether they are new to the game or have been playing for years.
Current Instructor Availability:
Rick Wing (Mondays-Thursdays, some Saturdays or Sundays)
Terry Frikken (Wednesdays)
Patrick Najor (Saturdays – Wixom; Mondays, Tuesdays, Thursdays, Sundays – Greg Grant Sportsplex-Shelby)
Justin Latin (Mondays & Thursdays)
Todd Kalmbach (TBA)
Aaron Rumberger (TBA)
Rates (1-2 players):
$50/half hour
Lesson Package $240/(5) half hour lessons
To schedule Baseball Lessons or for more information, call Total Baseball at (248) 668-0166.
PRINTABLE LESSON FLYER
Group Rates (3-5 players):
Instructor Flyer 5-18-22

FAQ
Are There Refunds Or Credits For Lessons?

Total Baseball has a NO REFUND policy for Lessons. A credit may be issued for future lessons, camps, classes or leagues.

No Show or Cancelled Lesson Policy?

There is a 24 hour notice rule for any cancellation of lessons. Total Baseball reserves the right to charge for NO SHOWS or lessons cancelled prior to 24 hour notice. Please call if you cannot make a scheduled lesson. 

How Do Lesson Packages Work? Lessons that are purchased through a Lesson Package do not all have to be scheduled at the time of purchase. Lessons can be scheduled as needed per customer's requests. Packages expire 1 year after purchase date.

What Are Team Lesson Rates?

Please call Total Baseball to discuss Team Training Sessions: (248) 668-0166.

Can Lessons Be Discounted?

Single Lessons cannot be discounted. The Lesson Package already includes a discounted rate. Lesson Packages must be paid for in full to receive the discounted rate.
BASEBALL AND SOFTBALL DIAMONDS AVAILABLE TO RENT FOR  SUMMER & FALL 2022 AT THE BACKYARD. CALL/EMAIL CELINA AT (248) 668-0166 OR CELINA@TOTALSPORTSCOMPLEX.COM
No

metal cleats

allowed on fields or mounds.
No

gum

or

seeds

allowed on fields by teams or spectators.
No

pets

allowed past the entry gate.
Concessions on site.
Handicap assistance available if needed (Please call (248) 669-9817 for golf cart assistance).
Bring your own chairs and shade. Bleachers are only available on South's full field diamond.
Batting tunnels available for warm ups next to the parking lot/North Field and next to the South Field.
Bullpen lanes available next to the North Field.
Any vehicles found parked in unauthorized areas are subject to towing.
13U-College Aged games use the full North and South fields.
12U-8U and Softball games use North and South #1-#4 fields.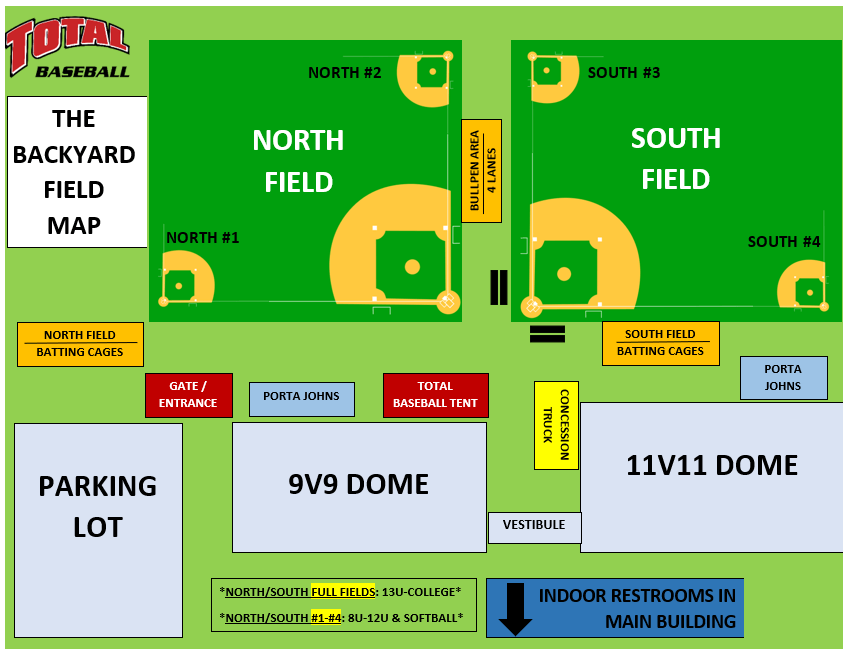 Total Baseball offers an array of indoor and outdoor Baseball Leagues for different ages and seasons. Click Title for a Flyer: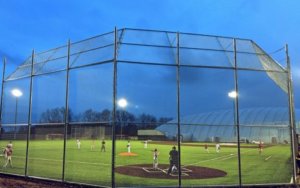 FALL BASEBALL LEAGUE (9U-18U) September 8 -October 11, 2022: Established in 1999, Total Baseball's Fall Baseball League hosts Michigan teams and players in quality, competitive and friendly environment. TB's Fall Baseball offers players and coaches the opportunity to:
– play more games
– experience new positions and players
– play on turfed and lit outdoor fields at Total Sports Complex – Wixom, 30990 S. Wixom Rd., Wixom MI 48393

We accept individual players and team registrations. 
RULES 2021
–Fall League Rules (13U, JV, HSV)
6 MAN – MAJOR & MINOR INDOOR BASEBALL LEAGUE (Ages 6-9 yrs) – Teams of 6-8 players will play fast paced games. Instructors or pitchers will pitch 3 balls to the batter. If the batter is unable to hit any of the pitches, he will get 2 chances to hit off the tee. Once the ball is put in play, fielders will have to make plays to get the outs. Players will have opportunities to try different positions each inning. DETAILS TBA.
VISIT OUR WEBSITE AT: WWW.TOTALSPORTSCOMPLEX.COM/SPORTS-OFFERINGS/TRAVEL-BASEBALL-WIXOM/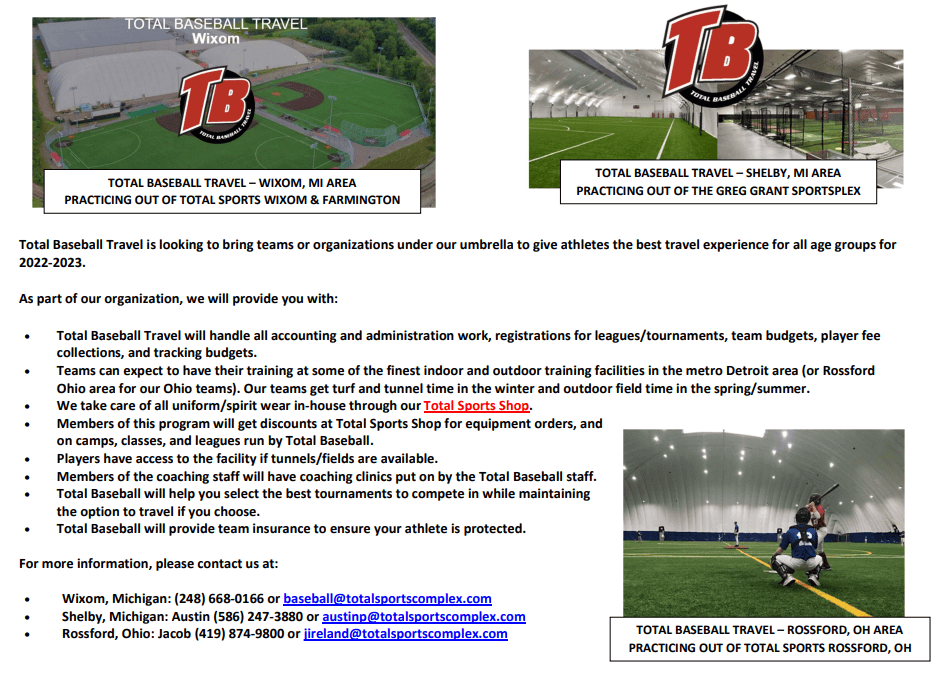 TRYOUTS FOR THE 2022-2023 SEASON WILL BE HELD ON JULY 30 & 31 (MAKE-UPS). TIMES TBA. – WE WILL HAVE TEAMS IN AGES 9U-18U.
*PLAYER FEES CAN BE PAID ONLINE ANYTIME BY CLICKING ON: DASH, LOGGING IN AND MAKING YOUR PAYMENT.
FOR DIRECTIONS TO MAKE ONLINE PAYMENTS PLEASE CLICK: DIRECTIONS
Total Baseball's various classes are offered from September-April every year. The Fall 2021 and Winter 2022 Classes are listed below – click on the class titles for printable flyers:
LITTLE HITTERS: (Ages 3-5 yrs)

 This introductory baseball class is great for children who want to learn the FUNdamentals of baseball. Drills include: tee-hitting, catching and throwing mechanics.


.

LITTLE SLUGGERS: (Ages 6-9 yrs) This baseball class builds on the fundamentals of baseball and is great for children who want to develop into a better player. Experienced instructors work with players on learning the proper techniques of baseball throwing, hitting, fielding and more.
T-BALL INSTRUCTIONAL CLASS: (Ages 3-6 yrs)

To

tal Baseball has an indoor T-Ball Instructional Class where players will participate in games where they learn to hit the ball, how to run the bases and where to throw the ball. Players will learn sportsmanship and how to be a team player. Teams will consist of 4-6 players. Games will be scoreless. Every player will bat each inning. Total Baseball staff will direct games and provide instruction.
FUNDAMENTALS OF PITCHING: (Ages 7-12 yrs)

This fundamental pitching class introduces the most basic pitching concepts. Players learn how to pitch effectively by learning smooth delivery, working out of the stretch, holding runners and more! – THESE CLASSES BEGIN IN JANUARY
To Register
Call: (248) 668-0166 or
Visit: DASH
What Should I Wear To Class?

Total Baseball suggests players wear athletic apparel or what they would wear to baseball or softball practice. Make sure players wear sneakers or turf shoes instead of cleats.

What Equipment Do I Need To Bring?

All players must have their own glove (mitt). Total Baseball encourages players to bring whatever other personal equipment they have i.e. bat, helmet, etc. TB has bats and helmets that can be used during class if needed. Gloves (mitts), bats and other baseball equipment can be purchased through

Total Sports Shop

.

Can Fees Be Prorated?

Class fees can be prorated as long as there are enough players to run a full class.
Now taking field rental requests for the 2021-2022 season!.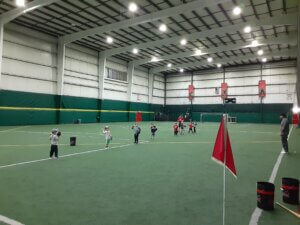 Tunnel Rentals
Total Baseball has 9 Tunnels. All Tunnels are fully turfed with an L-Screen. Most Tunnels are 12'Hx12'Wx70'L. Some are 12'Hx12'Wx40'L. Tunnel availability depends on Lessons, Classes and Rentals. Renters must bring their own equipment i.e. balls, tees, bats, etc. Call (248) 668-0166 to check availability and to schedule rentals.
Tunnel Rates
$35/Half Hour
$55/Hour
*Add $15 for use of Total Baseball's pitching machine and baseballs.
40′ Tunnel Rates
$20/Half Hour
$30/Hour
Drop In – Tunnels
Monday-Friday only, 9:00 am-4:30 pm if tunnels are available $10/person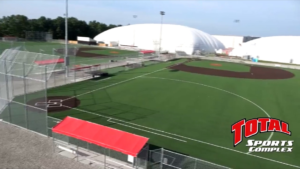 Field Rentals
Total Baseball has multiple fields and tunnels available for rent at many of our Facilities. To inquire about availability and rates, contact Celina Gutierrez at celina@totalsportscomplex.com or (248) 668-0166. 

The Backyard Rentals
Outdoor fully turfed diamonds with lights.